Wood Pellet Production Line
Agricultural wastes are tremendous green energies.
In the production of agriculture and forestry industry, there will occur a lot of wasting materials such as sawdust, tree bark, wood grains, corn straw, cotton straw, peanut husk and rice husk etc. Biomass wastes are especially common in developed countries like North America and Southeast Asia. Making full use of these wastes will lead to great economic benefits for us.

Fote offers practical solution for recycling waste materials.
As the most important member of the wood pellet production line, the wood pellet mill can briquette agricultural wastes that are hard to be glued and formed into pellets with different shapes. The final pellets own features of high degree of finish, good appearance and high density. All technical indexes reach the international level. The wood pellets made by Fote machine can replace the traditional coal as fuel source for the industrial boiler, which makes them a good development opportunity in the environmental protection field of the biomass fuel mechanical industry. Additionally, Fote wood pellet production line features strong pelletizing structure designed especially for the wood pellets, low maintenance frequency and reliable performance, which makes it a great help for customers.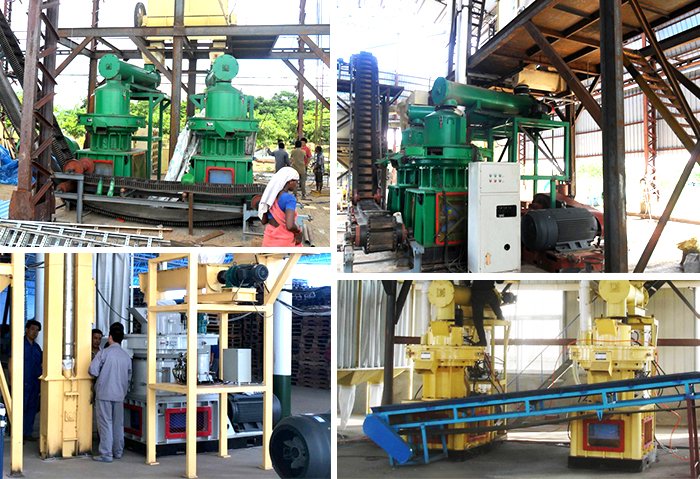 Fote wood pellet production line provides considerate service.
Fote wood pellet production line is a computer controlled automatic combination of material crushing, drying, pelletizing, cooling and packing processes. It is the first series of biomass pellet formation equipment in China which uses sawdust, straws and other wood leftovers as its material sources. For most biomass materials, our wood pellet production line made up of wood chipper shredder, rotary drum dryer, woodchips dryer, wood hammer mill, wood pellet cooler, bucket elevator and belt conveyor can make ideal pellets.
Fote Machinery has devoted itself to the research of wood pellet production line for more than ten years, with rich experience. If you are interested in starting a wood pellet making line for recycling waste materials, please send us email to sales@sinofote.com, we will reply you within one business day, thank you!
If you need the latest price list, please leave us a message here, thank you! We guarantee that your information will not be divulged to third parties and reply to you within 24 hours.
Tell us your needs, there will be more favorable prices!