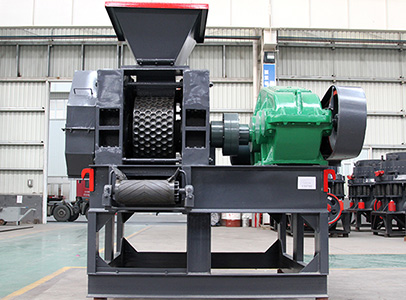 Charcoal Briquette Machine
Production capacity: 0.8-15t/h
Roller diameter: 290-1000mm
Applied material: Charcoal, coal, gypsum, limestone, slag, iron, aluminum, blue carbon, powder, kaolin, clay, etc.
Email: sales@sinofote.com
Brief introduction to charcoal briquette machine
Charcoal plays a very important role in industry, agriculture and life area. As handling charcoal is becoming more and more important, it's proper for customers to consider purchasing a charcoal briquetting machine.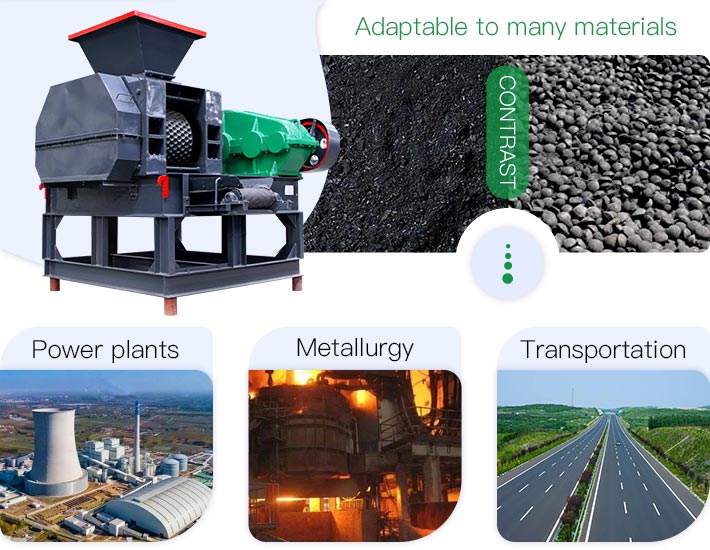 Charcoal briquettes making machine can process charcoal powder, toner, toner bamboo, coke toner, hookah carbon, graphite, carbon shell page, Jujube carbon, blue charcoal activated carbon and other powder materials into square, egg-shaped ball, oval, goose egg, bar and other special shapes products by grinding and stirring. The finished products with good economic and social benefits are energy saving, easy to store and transport.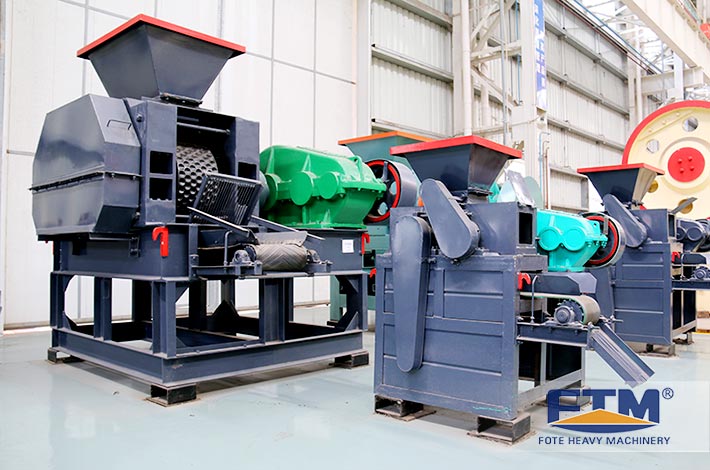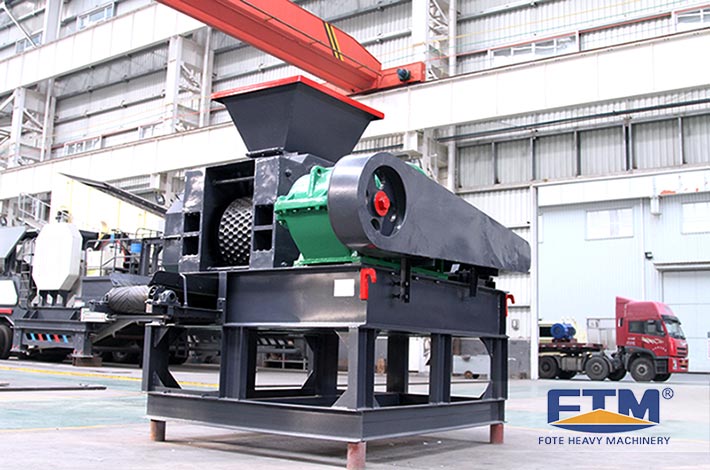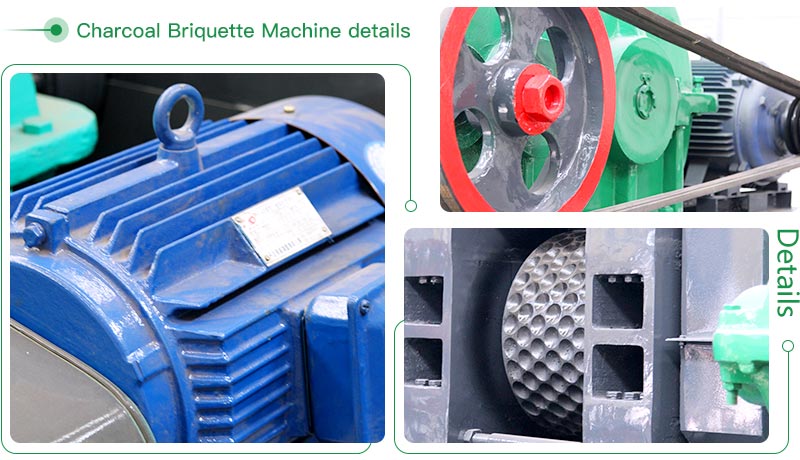 Application scopes of Fote charcoal briquette machine
Fote charcoal briquette machine is widely used in fields of refractory, power plants, metallurgy, chemical industry, energy, transportation, heating, animal husbandry, industry, agriculture, etc.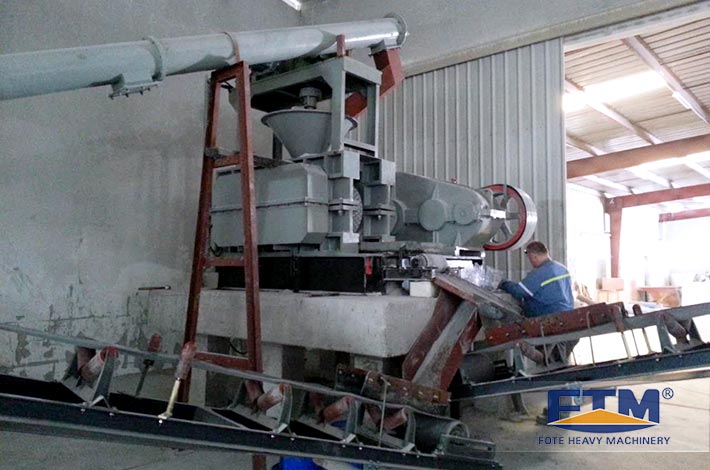 Components of Fote charcoal briquetting machine
1. Feeding part: screw feed device plays an important role because constant feeding will ensure that materials uniformly access to the rolls.
2. Transmission parts: main drive system: motor- triangle strips- reducer- open gear- roll
3. Briquetting part: referring to the main engine with rolls as its core part.
How to increase the working efficiency of charcoal briquetting machine?
Working efficiency of the equipment may be the issue customers most want to know. You just need to do as the followings say:
1.To do maintenance work well such as cleaning to prevent remnants from damaging the machine, adopting various methods to prevent rusting and inspecting speed machine and motor regularly.
2.The materials should be fed with the required mesh size and without mixing with any metal objects that will damage roll skin surface. Uniform Feeding can guarantee the final ball rate.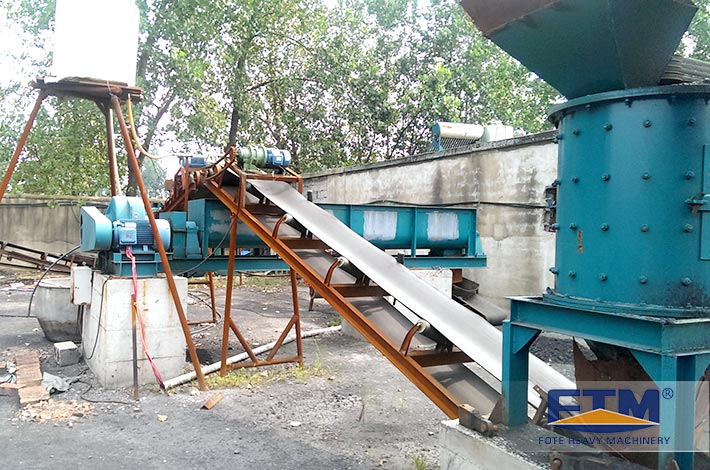 3.The operators must be skillful and fully understand the machine's structure, working principle and operating methods. They should be responsible and careful.
Our company has a long history and large-scale, and can produce different types of charcoal briquettes making machines praised by customers from all over the world. We'd like you contact us or have a visit. We offer 24 hours service for you!
Email: sales@sinofote.com
Model
Roller Diameter
(mm)
Capacity(t/h)
Power(kw)
Reducer
FTMQ290
290
1-2.5
5.5-7.5
350
FTMQ360
360
3-5
7.5-11
350
Heavy FTMQ360
360
3-5
7.5-11
400
FTMQ430
430
5-8
15
400
Heavy FTMQ430
430
5-8
15
500
FTMQ500
500
8-11
30
650
FTMQ650
650
10-15
37-45
750
FTMQ750
750
20-25
45
750
FTMQ850
850
20-28
55
850
FTMQ1000
1000
25-35
90
1000
Slide to the right>>
Get Latest Price
If you need the latest price list, please leave us a message here, thank you! We guarantee that your information will not be divulged to third parties and reply to you within 24 hours.
Tell us your needs, there will be more favorable prices!