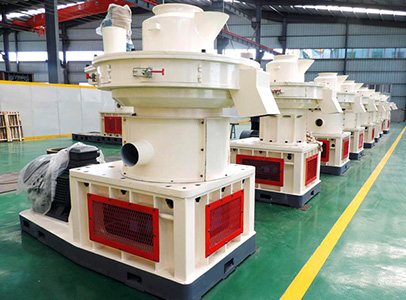 Tree Bark Pellet Mill
Production capacity: 1-12t/h
Pellet specification: φ4-φ30mm
Applied material: Tree Bark, Rice Hulls, Corn Straw, Saw Dust, Wood Shavings, Peanut Hull, Crop Straw, etc.
Email: sales@sinofote.com
A brief introduction to tree bark pellet mill
The tree bark pellet machine can processcoarse fiber materials or plant wastes such as rice husks, peanut shells, bamboo shavings, wood, sawdust, cotton stalks, straw, grass, life waste, palm fruit shells, toner and paper into clump or cylindrical biomass fuel pellets in high pressure and high temperature condition.

The tree bark pellet mill is widely used in fields of heating, living stoves, industrial boilers, biomass power plants, etc., and it can also be used for cold granulation of bio-fertilizer, manure management, and compound fertilizer.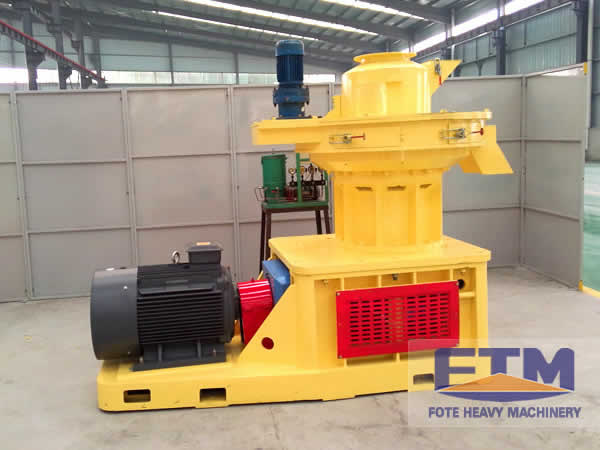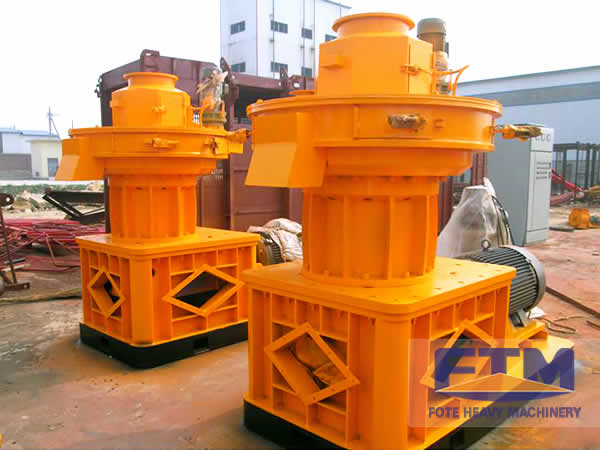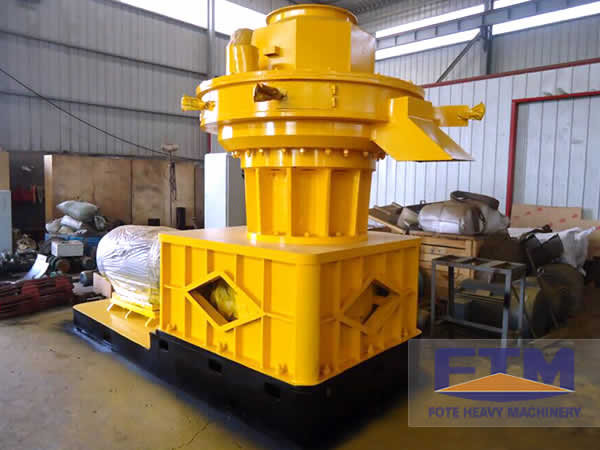 Maintenance of Fote tree bark pellet machine
1. Check every component and wire to prevent accidents before starting the machine.
2. Don't increase speed or tear down the security guards without permission.
3. Strictly forbid the minor or the elderly to operate; no drinking on duty or fatigue operation. Cut the power supply when leaving and prevent children getting near.
4. When feeding, hands are forbidden to access to the hopper.
5. Any unusual or abnormal sound, you should cut off the power and check immediately.
6. Workplaces must be spacious and equipped with fire-fighting equipment.
7. Strictly forbid stirring with a metal stick. There shouldn't be any iron or screw mixing in the materials.
8. Grounding device must be installed on the motor in order to avoid leakage and electric shock.
Common Faults and Exclusion Methods:
Failure reasons:
1. The ring die owns low smooth degree when it is first used;
2. Moisture content of raw materials is too high or too low;
3. The gap between pressurizing roller and ring die is too large;
4. Pressurizing roller and ring die are worn seriously;
5. Triangle belt is slipping or aging.

Solutions:
1. Using materials containing oil to lubricate can improve the production;
2. Regulating material moisture content;
3. Adjusting the bolts;
As a new energy, biomass particles will replace coal, oil and other traditional energy sources, which can not only ease the traditional energy supplying pressure, but also realize effective utilization of raw materials.
| | | | |
| --- | --- | --- | --- |
| Model | Power(Kw) | Pellet Specification(mm) | Capacity(t/h) |
| FKL55 | 75 | φ4-φ12 | 0.8-1.5 |
| FKL56 | 90 | φ4-φ12 | 1.2-1.8 |
| FKL58 | 160 | φ4-φ12 | 1.8-2.1 |
| FKL68 | 160 | φ4-φ12 | 2-2.5 |
| FKL85 | 220 | φ4-φ12 | 2.5-3.5 |
| FKL88 | 315 | φ4-φ12 | 3.5-4.5 |
| FKL105 | 360-450 | φ4-φ30 | 5-8 |
| FKL125 | 550-660 | φ4-φ30 | 8-12 |
Slide to the right>>
Get Latest Price
If you need the latest price list, please leave us a message here, thank you! We guarantee that your information will not be divulged to third parties and reply to you within 24 hours.
Tell us your needs, there will be more favorable prices!