Three Working Areas of FTM Wood Pellet Machine
According to the different status of powdered materials during the pelletizing process, we can classify the working area of wood pellet mill into three parts: feeding area, pressing area and pelletizing area. For materials in feeding area, they are not influenced by the external mechanical force. But, along with the revolution of ring die, raw materials closely bond together on the inner ring of ring die and their density is at about 0.4g/cm3 to 0.7g/cm3.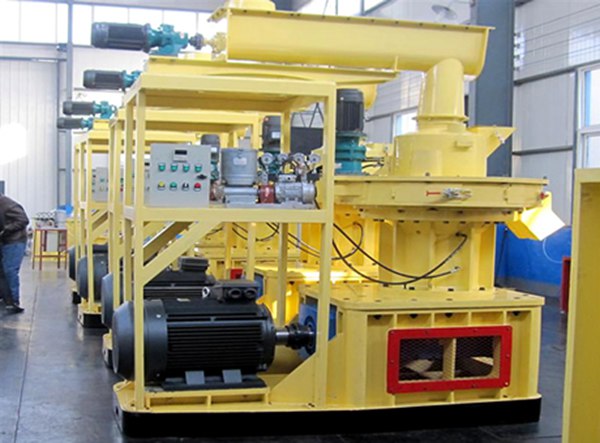 Then, along with the revolution of press roller and ring die, raw materials enter into the pressing area of wood pellet machine and are suppressed. Along with the gradual increase of pressure, distance between powdered materials gradually decrease. To some extent, powdered materials will experience the non-reversible deformation and their density can increase to 0.9g/cm3.
Inside pelletizing area, distance between press roller and ring die is relatively small. Along with the sudden increase of pressure, contacting area between powdered materials increases, too. Powdered materials closely adhere together and then are suppressed into die holes. Due to the flexible deformation and plastic deformation, intensity of powdered materials can reach to 1.2g/cm3 to 1.4g/cm3.
After being extruded out from die holes, raw materials have certain spring-back rate. Generally, the spring-back rate is at about 2% to 5%. Physical properties of raw materials and L/D of ring die can both influence the spring-back rate. Leave your material kind and email on website to get the price list and brochure.
If you need the latest price list, please leave us a message here, thank you! We guarantee that your information will not be divulged to third parties and reply to you within 24 hours.
Tell us your needs, there will be more favorable prices!