Fote Ring Die Pellet Mill with Reliable Quality
This ring die pellet mill is suitable for pelletize the materials hard bonding and difficult molding such as rice husk, shell of sunflower seed, peanut shell, branches, shell trunk, bark and other crops. The machine is widely used in biomass fuels plant, power plants, wood plants, toy factory, chemical plants and so on. As an ideal compression density molding equipment, ring die pellet mill features low investment, quickly achievements and low risks.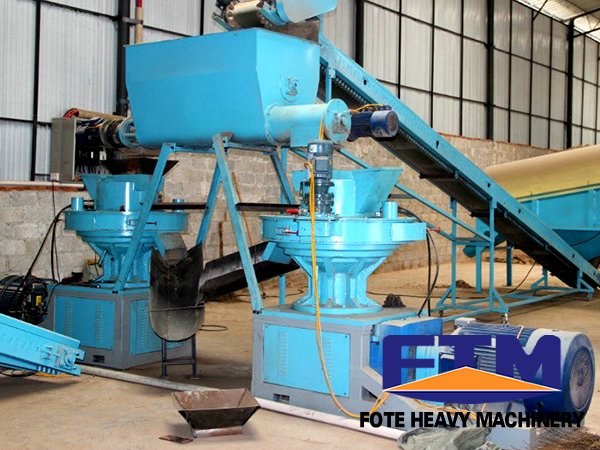 Most of our customers are familiar with the ring die pellet mill. Many manufacturers in both domestic and abroad use the ring die pellet mill to produce the biomass particles. The raw materials of finished fodder are fine fodders, like corn, soybean meal, cotton pulp and so on. Steam conditioning apparatus are equipped before pelletizing to soften and cure the raw materials and increase glossiness. Crude fiber materials, like straw and wood chips with low adhesion rate and hard molding need large pressure to reach the grain density. Renewable energy source is just emerging in the market, so ring die pellet machine has many disadvantages that will be improved by us.
Fote Heavy Machinery is a technology enterprise collecting of product design, scientefic research, mainly producing ring die pellet machine, flat die pellet mill, biomass pellet mill, biomass briquetting machine and wood pellet making machine. Especially the' cone roller type ' flat mold granulating features special structure, large pressure, little energy consumption and high efficiency. Die plates adopts the high quality alloy steel whose service life is several times of ordinary steel, and enjoys a good reputation in the market.
If you are interested in our ring die pellet machine, please leave us a message or contact us online. Our professionals will always keep in touch with customers, ready to solve various problems in the workflow.
If you need the latest price list, please leave us a message here, thank you! We guarantee that your information will not be divulged to third parties and reply to you within 24 hours.
Tell us your needs, there will be more favorable prices!