Researches on Mechanism of Sawdust Pellet Mill
Researches on mechanism of sawdust pellet mill play important roles to improving the working performance. While, in China, there are quite few researches on studying the mechanism of sawdust pellet mill. Basically, the research status is blank. To establish the theory basis on optimizing the performance of sawdust pellet mill, the following contnet will discuss about the pelletizing work from the two pressures respectively on raw materials and die holes.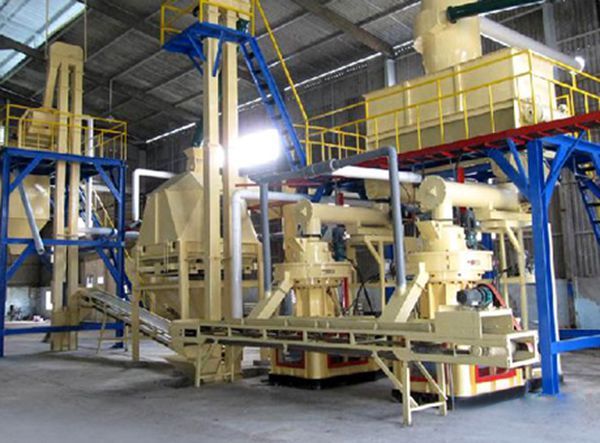 Sawdust pellet mill is made up of feeder, modulator, pellet maker, adjusting device and lubricating system. Feeder is made up of electro-magnetic speed-adjustable motors, reducer, coupling, chopping axis and chopping shell. The electro-magnetic speed-adjustable motor is consisted of variable frequency motor and reducer.
Frequency converter, which has to work with speed-adjustable motor, can change the output speed of speed-adjustable motor. Feeding chopping is made up of chopping shell, chopping axis and plummer block. Through the coupling, speed-adjustable motor can drive the chopping axis.
Modulator is made up of dynamo, transmission device, modulating rotor, shell and steam mouth, etc. Steam, being fed into the modulator, can modulate the powered materials to product with certain humidity and temperature. Then, the modulated products are delivered into the pelletizing chamber for treatment. Shell of modulator is made of stainless steel.
Since processing technology is exported from Germany, sawdust pellet mill is excellent in quality and there is no doubt. Besides, the sawdust pellet mill has acquired many certificates. As to the price of saw dust pellet machine, it is not expensive. Then why do not use the sawdust pellet mill to turn those agricultural and forestry wastes into biomass pellets of great value?
If you need the latest price list, please leave us a message here, thank you! We guarantee that your information will not be divulged to third parties and reply to you within 24 hours.
Tell us your needs, there will be more favorable prices!