Material Feeding of Coal Briquette Machine
The feeding process of coal briquette machine is generally divided into several procedures. Firstly, we need to crush materials into powders with size about 1-3mm. If necessary, we need to add the adhesives and use the agitator to evenly agitate the mix of adhesive and coal material. Then, these agitated materials are delivered into the inner part of coal briquetting plant. In order to achieve excellent pressing effect, the evenness degree of delivering should be payed much attention. If the feeding is uneven, the early work would make no sense.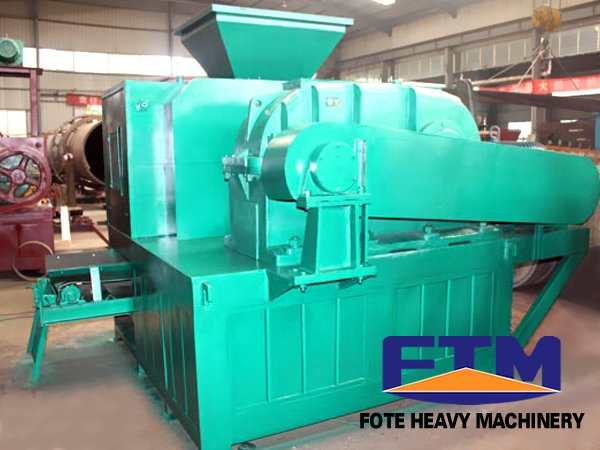 As we all know, the coal briquette plant works by pressure. The pressure in the distance between double rollers would be insufficient due to the insufficient materials, so the powered materials could not be effectively suppressed into briquettes or balls. Even though some balls or briquettes are produced in the end, their strength is still poor. If the materials are of sudden overmuch, the exiting pressure of coal briquette press would not shoulder the amount. As a result, blocking and poor balling would be caused. Therefore, the balling rate of coal briquette press machine is in direct relationship with material feeding.
With the marketing principle that occupying market by products, creating market by service and leading market by popularity, Fote has been making a lot of efforts to practice this marketing principle. By virtue of excellent products and perfect service, Fote has established long-term cooperation with many enterprises. If you need our products, please click the website and leave messages on it: http://www.woodpelletmillsell.com. We will contact with you as soon as possible. If you have any question about our products, leaving your advice on our website is also OK. We will take them sincerely. Thank you!
If you need the latest price list, please leave us a message here, thank you! We guarantee that your information will not be divulged to third parties and reply to you within 24 hours.
Tell us your needs, there will be more favorable prices!