Flexible Operation of Coal Briquette Machine
With remarkable features of easy installation, high working efficiency and convenient maintenance, the coal briquette press machine is more and more used today. Users should operate the coal briquetting machine flexibly according to the site situation. Finished coal briquettes in sizes of apricot, egg and cylinder are soft. They should be delivered to the cooling system in belt conveyor by conveyor and chute. The proper length of cooling system enables the coal briquettes to be fully cooled and get enough strength for subsequent processes. If necessary, we can install a multi-layer belt conveyor and water or air coal briquettes for rapid cooling. If the temperature of finished coal briquettes is extremely high, we can cool them in inert air.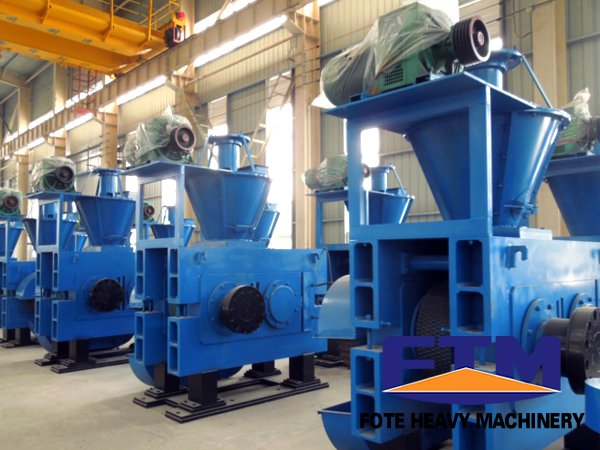 Materials like spilling, unqualified coal briquettes, chips and powders are collected in conveyor and delivered into waste storage. Then materials in waste storage are discharged out at a certain speed and crushed in hammer crusher. The evenly crushed material are delivered to main flow by conveyor. As to the production of unqualified coal briquettes, they are the results of imbalance operation and inconsistent temperature. Coal briquette machine should be equipped with dedusting devices. The commonly used dedusting device is cyclone separator. If necessary, the dust washer can also be used.
Morality oriented, people will be honest; quality rooted, product will be excellent. As a professional manufacturer of coal briquetting machine, Fote has always regarded the quality as life and customer as God. By virtue of the service spirit of enthusiasm, servant and faithfulness, Fote has made long-term cooperation relationship with many enterprises. If you want to cooperate with us, please click the website and leave messages on it : http://www.woodpelletmillsell.com. Professional personnel in our company will contact with you as soon as possible.
If you need the latest price list, please leave us a message here, thank you! We guarantee that your information will not be divulged to third parties and reply to you within 24 hours.
Tell us your needs, there will be more favorable prices!