Ways to Increase the Stack Density of Coal Briquettes
Coal briquette machine, also named as coal briquetting machine, is mainly used to suppress materials like pulverized coal, iron powder, coking coal, aluminum ash, iron filings, iron oxide scale, carbon dust, powdered carbon, slag, gypsum, gangue, sludge, kaolin, active carbon, coke breeze and so on. In order to improve the molding pressure of coal briquette press machine and strengthen the intensity of finished coal briquettes, we can increase the stack density of raw material. The increased stack density can make the raw material firmly combine together at the nip place of press rollers, thus the amount of raw material entering into the ball socket can increase a lot.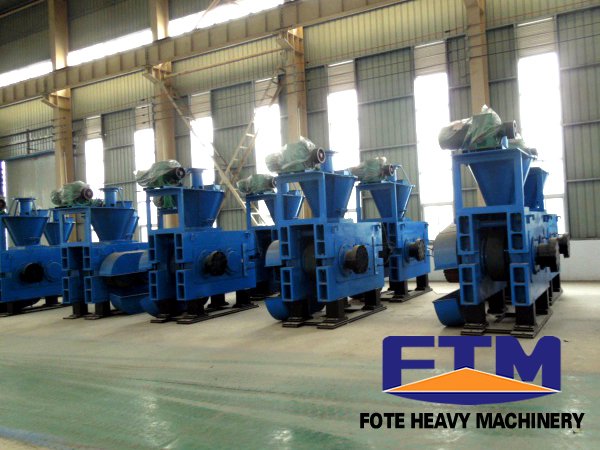 Being in the ball socket of two revolving press rollers, coal materials would be more and more pressed along with the closing of ball sockets. Since the prepared coal materials have certain fluidity, they would move up and down when being pressed by double rollers. If the water content or asfalto in coal materials is much higher, the fluidity would be much strong. The strong fluidity would cause some materials being nipped by press rollers to be extruded back in feeding box, thus the coal material in ball socket is insufficient. The finished coal briquettes would be loose in tensity and poor in quality.
On the contrary, if the coal materials are poor in water content, the fluidity would be weak. Since the inner fraction between coal materials is relatively large, coal materials in ball sockets would be insufficient and the finished coal briquettes would be poor in quality. Thus, when coal materials are at proper fluidity, the balls sockets can be filled with and the finished coal briquettes with excellent quality can be produced. Want more information? Please click the website and leave messages on it: http://www.woodpelletmillsell.com.
If you need the latest price list, please leave us a message here, thank you! We guarantee that your information will not be divulged to third parties and reply to you within 24 hours.
Tell us your needs, there will be more favorable prices!