Details for Molding Technology of Coal Briquette Plant
Molding technology is dependent on the property of raw material. For coal, molding technologies can be divided into the following three types: cold pressing, hot pressing and briquetting. Cold pressing technology is the main method for coal briquette blend with temperature no more than 100℃. It includes two molding technologies: no-adhesive molding and adhesive molding. Coal briquette blend is the raw material being proportionally mixed with powdered coal, adhesive and additives for making coal briquettes.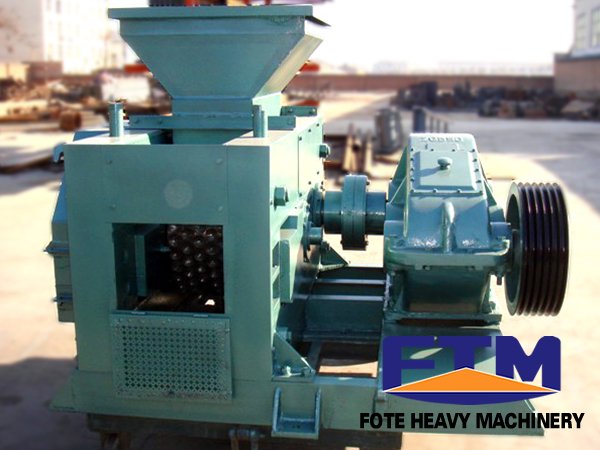 As its name implies, no-adhesive molding is to mold finished products without the help of adhesive. According to the molding pressure, it can be divided into the following three types: low pressure molding, medium pressure molding and high pressure molding. Low pressure molding is to mold something with pressure no more than 50MPa. Medium pressure molding is mainly used to mold anthracite coal and peat with pressure between 50MPa and 100MPa. The high pressure molding has become mature, which is mainly for molding lignite with coal briquette press machine.
Adhesive molding is to mold something with the help of adhesive. The commonly used adhesive includes organic adhesive, inorganic adhesive and compound adhesive. The adhesive molding process is divided into physical molding and chemical molding. The former means that the adhesive just naturally plays the role of adhesion while the latter means that chemical changes occurring in molding and consolidation processes stimulate the adhesive to play the role of adhesion.
Hot pressing technology is to heat the coal briquette blend with high temperature so as to produce the plastic mass. This method is generally used to produce formed coke. Briquetting mold is to mold coal briquette blend naturally with the help of adhesive and water. Want more information? Fote Heavy Machinery: http://www.woodpelletmillsell.com.
If you need the latest price list, please leave us a message here, thank you! We guarantee that your information will not be divulged to third parties and reply to you within 24 hours.
Tell us your needs, there will be more favorable prices!