What can we do to Improve the Molding Efficiency of Coal Briquette Machine ?
To improve the molding efficiency of coal briquetting plant, users should firstly improve the molding pressure, which is related with factors like property of coal material, width and diameter of press roller, distance between two rollers, revolving speed of press roller, shape and size of ball socket, etc. Thus to improve the molding efficiency, users must prepare well before production. Secondly, the allocation structure of coal briquette plant is of great importance for molding efficiency. If the allocation of all parts is reasonable, production will be at ease. Thirdly, the roller skin, as a core part of coal briquette press machine, has certain relationship with molding efficiency. Thus either the roller skin texture or size of ball socket should be excellent and suitable.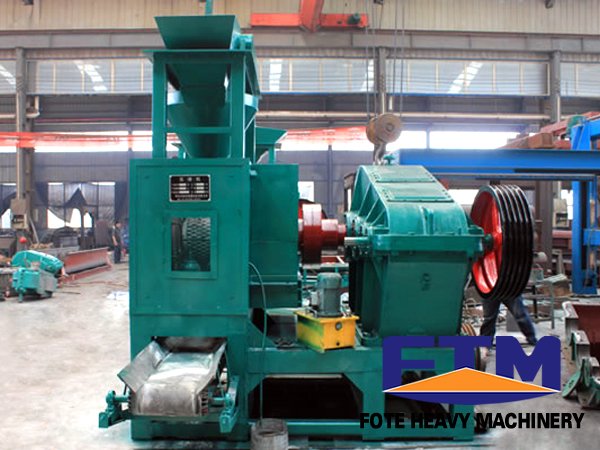 It is well-known that the coal briquette press is capable to press materials like coal material and mineral powder, etc. Someone doubts that whether the coal briquette plant is suitable to press all materials. The definite answer is No. Every product has its definite application area. Coal briquetting plant can suppress the following materials into pellets, briquettes or balls like aluminum scrap, activated carbon, alumina, bauxite, caustic soda, coke crumbs, coal, charcoal, clay, cryolite, fertilizer, plastic, limestone, pigment, urea and potassium salt, etc.
To process the above materials into pellets, balls or briquettes, many advantages can be well realized like dust reduction, volume-weight control and effective transportation, etc. With the target to be the NO.1 brand of China mining machinery, Fote has made a lot of efforts to near it. Now, Fote products are well-received among the world markets. If you need our products, please leave messages on our website or directly email us: http://www.woodpelletmillsell.com. We will reply to you as soon as possible.
If you need the latest price list, please leave us a message here, thank you! We guarantee that your information will not be divulged to third parties and reply to you within 24 hours.
Tell us your needs, there will be more favorable prices!