The Requirement of Briquette Making Machine for Lubricating Oil
The Fote mineral powder briquette making machine is mainly used to suppress dry material into briquettes or balls. And the materials like quicklime powder, magnesia powder, copper concentrate, refractory material and ceramic material are dried by stoving method. And the finished briquettes with great density and intensity are more popular among customers under the utilization of electro-vibrating feeder. Due to the adaptive feature of lubricating oil to about 55℃ temperature difference, the oil can still work under the subzero temperature. The viscosity of lubricating oil should be smaller along with temperature changes for the fear of formation failure of lubricating film and operation failure of equipment. On account of the mechanical drive and heat transfer, the oil temperature is high during the working process of mineral powder briquette making machine. Thus the lubricating oil must have features of heat stability and antioxidant activity.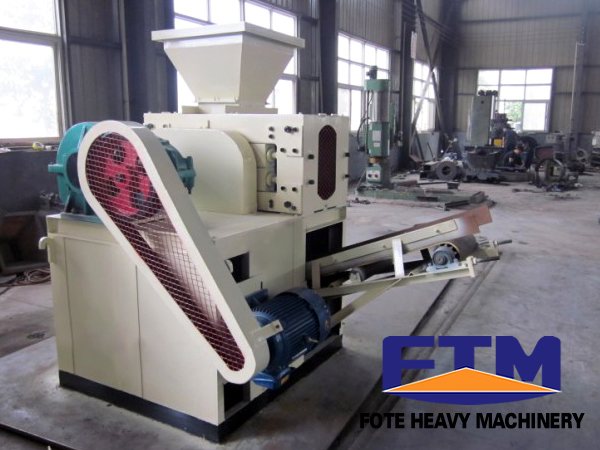 The stability of lubricating agent and sealing element should be well without the potentiality of chemical reaction for the fear of sealing damage. With regard to the selection of lubricating oil, enterprises should choose the product with excellent quality and performance. And only by this way, the mineral powder ball press machine can be well protected and the finished products of great economic benefits can be obtained.
In order to meet the requirement of market development, Fote has much strict demand on the production technology of ore powder briquette making machine. Take the press roller as an example, Fote deeply knows the significance of press roller in improving the working efficiency and prolonging the service life of the whole equipment. Thus, Fote is very careful in selecting the appropriate press roller. The demands and needs of customers are always given the top priority during the manufacturing process of mineral powder briquetting machine.
If you need the latest price list, please leave us a message here, thank you! We guarantee that your information will not be divulged to third parties and reply to you within 24 hours.
Tell us your needs, there will be more favorable prices!