The Control Work on Roller Distance of Fote Briquette Machine
Due to the status of machinery industry as important backbone for industrial development, the equipment production should be excellent in quantity and quality. By virtue of the national support and introduction of foreign advanced technology, the briquette machine like ore powder briquette making machine has developed rapidly in recent years. During the molding process of ore powder ball press machine, many factors like equipment parts, water content in material, adhesive adding and so on play the roles in influencing the molding result. And it is no exception for roller distance.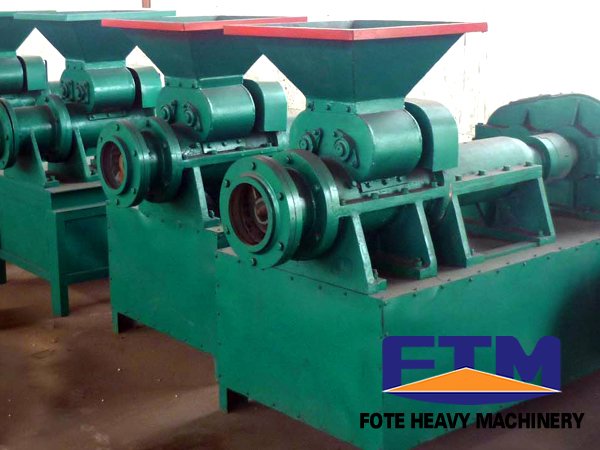 To some extent, there exists an inverse ratio between roller distance and compression ratio. Even though narrowing the distance may elevate the molding pressure, the balling result could not be ensured. Due to the small roller distance, the feeding mouth being installed in ball socket could become smaller and smaller along with the roller rotation before the full entry of material. The insufficient entry of material would cause the discharging of incomplete balls or briquettes. Similarly, if the roller distance is larger than the appropriate value, the molding pressure will be too weak.
Therefore, with regard to the control for roller distance of mineral powder briquette making machine, practice makes perfect. The best criterion is the perfect combination between complete entry of material in ball socket and standard molding pressure. Being based on the advantaged manpower source, the heavy machinery like briquette making machine has developed well. Due to the marketing principle that market decides the trend of products, the domestic processing technology will strive forward to close the international technical level.
If you need the latest price list, please leave us a message here, thank you! We guarantee that your information will not be divulged to third parties and reply to you within 24 hours.
Tell us your needs, there will be more favorable prices!