Factor Analysis for Perfect Balling Result
If the carbon dust briquette making machine is installed in the suspended type, the waterproof measures must be made well between the stand and equipment for the fear of the entry of rain into the equipment from the interface place. And with regard to the stand selection, the original one is the best choice. As a specialized manufacturer of ball press machine, Fote Heavy Machinery knows the importance of stand very well, so every stand in Fote workshop is qualified.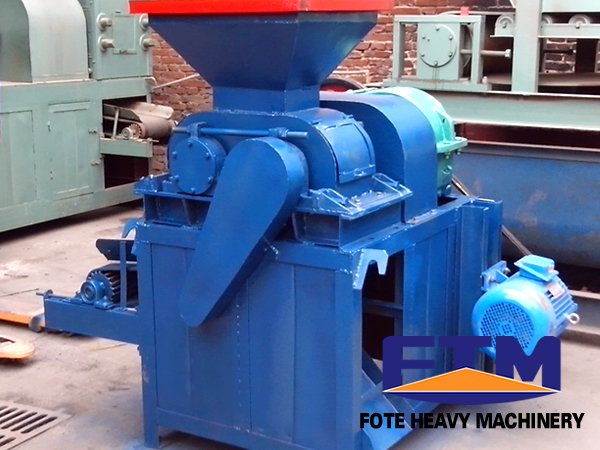 The distance controlling between rollers is an important operational factor, which can influence the balling result of powdered coal briquette machine. And all in all, the property of material decides the roller distance. When referring to most materials, the roller distance and compression ratio have an inverse relationship to some extent. Thus if users want to improve the molding degree of material, narrowing the roller distance will be OK. And the roller distance is limited. If the distance is too small, materials will be suppressed with no time to fill the ball socket. And if the distance is larger than the designed, the rolling pressure will be weak with potential consequence of molding failure in the end. Thus controlling the roller distance well is the premise to command the molding intensity.
Mechanical equipment in good quality is the premise to produce qualified products. Nevertheless, the equipment itself is just one factor. The skillful operation of operators also plays very important role in actual balling process. Being famous of manufacturing all kinds of heavy machines, Fote Heavy Machinery advises operators to control the roller distance of powdered coal briquetting machine in accordance with the strict operational standard.
If you need the latest price list, please leave us a message here, thank you! We guarantee that your information will not be divulged to third parties and reply to you within 24 hours.
Tell us your needs, there will be more favorable prices!