The Component Analysis of Powdered Carbon Briquetting Machine
Different from other briquette machines, powdered carbon briquetting machine is applicable to deal those materials which are hard to be suppressed. With features of huge suppressing power and adjustable rotation frequency of the main engine, the carbon dust briquette machine is well equipped with spiral feeding device. Being powered with electromagnetic timing electrical machine, the driving shaft and driven shaft of powdered carbon briquette machine move synchronously through the open gear. And behind the driven shaft bearing, the hydraulic equipment is installed in the machine. The roller skin as easy wearing part is forged with excellent alloy through strict heat treatment and careful machining.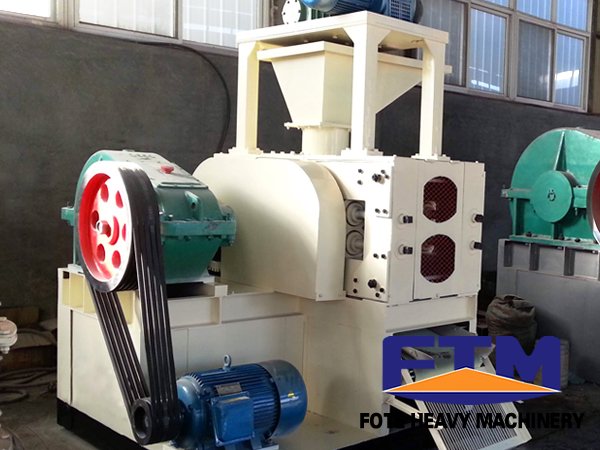 Powdered carbon briquette making machine with advantages of strong working intensity and wear resistance as well as easy demoulding has specialized ball socket according to the requirement of customers. Mechanical devices for switching and controlling installed in the feeding mouth ensure continuous feeding in roller area for rolling regardless of the humidity and size of material. And the hydraulic pressure station on the machine rack can flexibly and rationally adjust the rolling intensity of roller. Because most part are made with metallic material, the installment of carbon dust briquette machine must be waterproof. If the metallic material contacts with water for a much longer period, the equipment will be rusted and even utilized ineffectively under the severe influence of weather.
Being named with the suppressed material of powdered coal, the powdered coal briquette machine is relatively important among all briquette machines. Actually there is no great difference in suppressing principle between the powdered coal briquette making machine and other briquetting machines. Nevertheless, they are inconsistent in the briquette size, roller texture, molding pressure and equipment size themselves.
If you need the latest price list, please leave us a message here, thank you! We guarantee that your information will not be divulged to third parties and reply to you within 24 hours.
Tell us your needs, there will be more favorable prices!