Reason Analysis for Discharging Difficulty of Straw Pellet Machine
Sometimes, it is inevitable to meet problems of discharging difficulty and low productivity when straw pellet mill is frequently used. Some users may think that the quality of equipment itself is unqualified. If the above problems occur, the following methods will help you to deal with them effectively.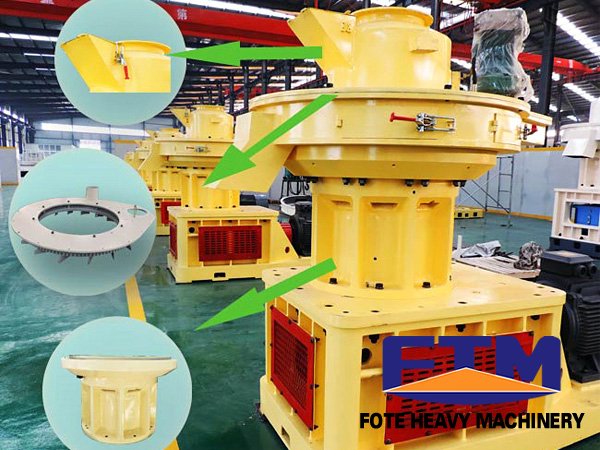 If the new ring die is used, the first thing is to check that whether the compression ratio of ring die is matching with raw materials. The compression ratio of ring die must be changed for the fear that the finished products manufactured by straw pellet machine are in great hardness and small output. Some unqualified ring dies with features of coarse inner hole and distortion are easy to cause consequences of rough and difficult discharging as well as uneven pellet production. Thus excellent ring die must be utilized in case of above situations. If the ring die is used for a much longer time, the abrasiveness condition of taper hole and press roller must be checked. If the condition is serious, the ring die will be repaired and processed again and the press roller will be changed with a definitely new one.
The gap between ring die and press roller should be adjusted appropriately. Small gap will increase the friction force between press roller and ring die with consequence of shortened service life. While large gap will cause stagnant discharging and small output. The distribution situation of raw materials should be checked for the fear of uneven distribution. If the similar situation happens, the location of feeding scrapers shall be adjusted for even distribution of raw materials. Thus the service life of ring die shall be prolonged and the discharging speed shall be accelerated by a large margin. Circumstances that the straw pellet making machine works in spite of illness and wrong movement of bearing will cause the equipment to work powerlessly with unstable electric current and low working efficiency.
If you need the latest price list, please leave us a message here, thank you! We guarantee that your information will not be divulged to third parties and reply to you within 24 hours.
Tell us your needs, there will be more favorable prices!