Fault Handling for Ring Die Pellet Mill
During the actual utilization process of ring die wood pellet mill, situation that the machine can operate normally without any fault is the premise for high working efficiency and continuous production. However, failures are inevitable. As long as the failure is carefully analyzed and quickly resolved, the time for production will not be delayed.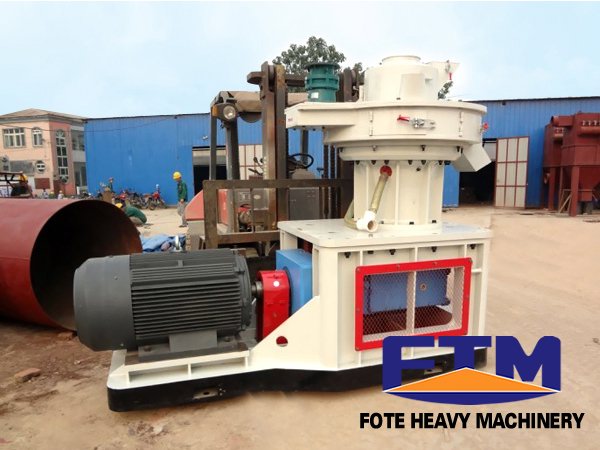 1. The evident productivity decrease of ring die pellet machine
Fault cause: High water content in raw material; The falling off or damage of inner parts; Severe abrasion of hammer; Uneven feeding; Excessive slowness of rotating speed or belt slip
Handling method: Drying the material in the sun; Overhauling the motor; Adjusting the angle or changing new hammers; Even feeding and full load in operation; Ensuring the revolving speed of ring die pellet mill and tightening the belt.
2. Oversize finished products
Fault cause: Severe abrasion of sieve or holes in the sieve; Loose connection between sieve and sieve holder
Handling method: Mending or changing the sieve; Halt for examination
3. Strong vibration of ring die pellet mill
Fault cause: Wrong installation order for hammers; Swing-out failure of some hammers; Damaged bearings; Shaft distortion; The looseness of foundation bolt
4. Reverse spraying of feeding mouth
Fault cause: Congestion in fan blower or delivery pipe; Over-wet material or congestion in sieve hole; Overfilling in powder collector or excessive feeding
Handling method: Cleaning the congestion and examining the abrasiveness of fan blower; Drying the material in the sun or widening the sieve hole; Timely discharging or reducing feeding; Changing the powder collector according to the required size.
Enhancing the maintenance work for ring die wood pellet mill is also an effective way to prevent the machine being damaged. Thus the maintenance work is indispensable to the high performance of ring die pellet machine.
If you need the latest price list, please leave us a message here, thank you! We guarantee that your information will not be divulged to third parties and reply to you within 24 hours.
Tell us your needs, there will be more favorable prices!