Straw Pellet Machine is an Ideal Choice in Machinery Industry
Under certain pressure and temperature, the scattered raw materials will be pelletized into biomass particles with high density and smoothly surface. Host box is made of high-quality steel, which is featured with uniformly thickness and compact structure. Wasted furniture can be pelletized into particle fuel, which is featured with combustion rate and utilization value. The density of finished particles is about 1100kg/m3. Biomass fuel has solved difficult processing of the wasted furniture.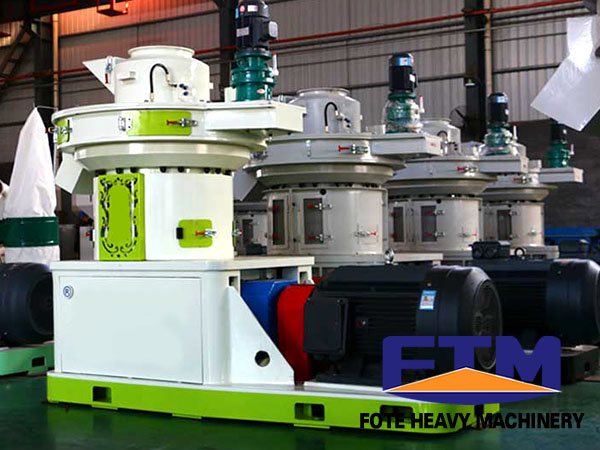 Straw pellet machine is mainly used to pelletize wood chips, sawdust and sticks. Utilization rate will be increased and environment pollution will be reduced. As a pelletizing machine, Fote sawdust pellet machine is featured with high efficiency and large yield. Water, starch, protein, fat, crude fiber in the raw materials will be changed. The content and bulk density of the biomass materials have been greatly changed.
Particle size is much smaller finer and smaller, and it is benefit to hydrothermal processing. On the contrary, water absorbing capacity of the coarse particles is lower. Quenching effect is much better than traditional biomass particles. The quality of biomass particles is equivalent to intermediate bituminous, which can be burnt directly. Combustion performance has been improved greatly. As an effective utilization method, biomass pelletizing machine has been widely used in many industries at home and abroad.
Straw pellet machine has been utilized in many industries. In pervious, there are many wood chips and blocks in furniture industry and they are abandoned and burnt. Now, energy saving has been our national condition, so many enterprises choose Fote straw pellet machine. If you are interested in Fote sawdust pellet machine, please leave us your email, phone number and the the name of your company.
If you need the latest price list, please leave us a message here, thank you! We guarantee that your information will not be divulged to third parties and reply to you within 24 hours.
Tell us your needs, there will be more favorable prices!