Widely Application of Wood Chip Pellet Mill
The application of wood chip pellet mill is widely. Crude fiber and forestry waste can be pelletized into biomass particles by Fote wood chip pellet mill. Natural resource has been utilized, and environment pollution has been reduced. Raw materials can be pelletized into livestock feed and fuel. Sawdust, wood shavings, bark, sanding dust, waste wood, wood branches, straw can be pelletized into artificial board. You needn't add any adhesive in the raw materials.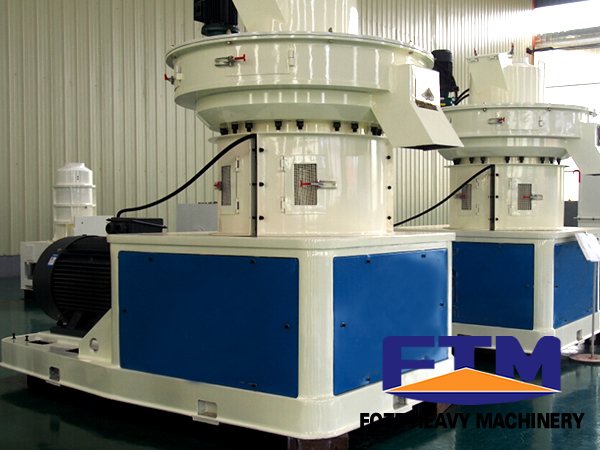 Soybean meal and corn stover are abandoned or burnt in previous, and now they can be pelletized into fine feed. By this way, raw materials will be utilized and the particle feed is benefit to the development of livestock development. The operation principle is that, soybean meal and corn stover should be crushed into powders; and then they can be dried by grain drier; the finished powder will be pelletized into biomass particles. In recent years, environmental industry has been promoted in Southeast Asia. Environmental machine has taken important position in industrial development. Environmental equipment is in the beginning stage, advanced pellet machine is demand in the market.
Wood pellet machine adopts advanced briquetting technology. Host drive adopts efficient belt, and ring mold adopts quick release hoop type. Door cover is installed with forced feeders, which has overcame the difficult granulation of biomass crude fiber. Wood chip pellet mill adopts vertical feeding, and the raw materials are evenly distributed. Balling rate of the biomass pellets is higher. Vertical installing mode is benefit to lower the temperature. If you are interested in Fote wood chip pellet mill, please leave us your email, phone number, and the name of your company. We will give you a response as soon as possible.
If you need the latest price list, please leave us a message here, thank you! We guarantee that your information will not be divulged to third parties and reply to you within 24 hours.
Tell us your needs, there will be more favorable prices!