Biomass Pellet Mill is a Dense Compression Equipment
Fote biomass pellet mill can be used to pelletize eucalyptus, pine, birch, poplar, fruit, crop straw and bamboo shavings smash into biomass particles. The new biomass pellet mill can solve some mechanical failures, such as hard pelletizing and poor effect. Host computer adopts efficient belt driving, and feeder adopts frequency feeding system to make sure uniformly feeding. We use international advanced manufacturing process to produce all kinds of qualified molds in accordance with your requirements.Domestic economy has been developing fast, and urbanization and industrialization has been never stopped. Fote biomass pellet mill has been widely used in recovery utilization of crop straws.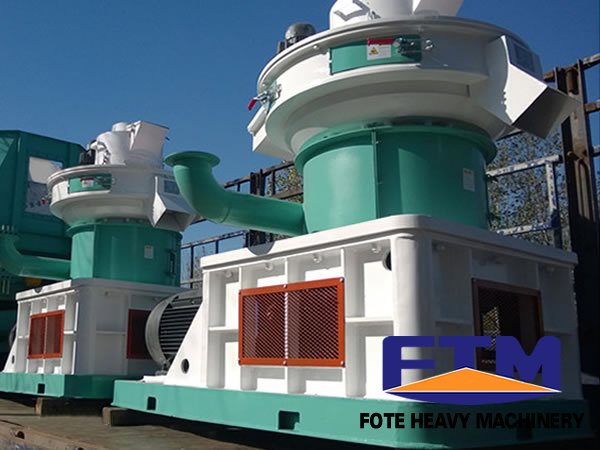 With the reform and opening up policy, Fote Heavy Machinery has been merger and restructured. The biomass pellet mill, with persuasiveness and strength, has been produced by Fote. As a professional machinery enterprise, Fote Heavy Machinery has a high-speed development period more than 20 years. Now, I will give you a brief introduction of biomass pellet machine. The pellet machine absorbs essence of foreign advanced technology. Pressure roller is made of high alloy wear-resistant materials. Biomass pellet machine features unique design, reliable structure and long lifespan. As the first styling machine, biomass pellet mill has made up the technology shortage in vertical feed.
Fote biomass pellet mill is mainly used to pelletize all kinds raw materials, such as rice hulls, sunflower seed shells, peanut shells, branches, tree trunk, bark rubber, cement, ash and soon. The machine has been used in feed mills, wood processing plants, fuel plants, fertilizer plants, chemical plants and so on. If you have any questions about the biomass pellet mill, please leave us a message. We will give you an answer as soon as possible.
If you need the latest price list, please leave us a message here, thank you! We guarantee that your information will not be divulged to third parties and reply to you within 24 hours.
Tell us your needs, there will be more favorable prices!