Biomass Pellet Machine is Used in Bio-power Plant
Fote Heavy Machinery has been manufacturing pellet machine for more than ten years. The pellet machine is suited in agriculture and industry production. The crop straws can be crushed, dried, pelletized and cooled. As a kind of environmental fuel, the finished particles feature no pollution, long combustion period and low emissions. Environmental fuel has been popular in Southeast Asia and Euro countries. With the high requirements for the quality of biomass particles, manufacturers have paid more attention on quenching process in feed production. Reforming the quenching process has been the most important method for improving market competitiveness and production quality.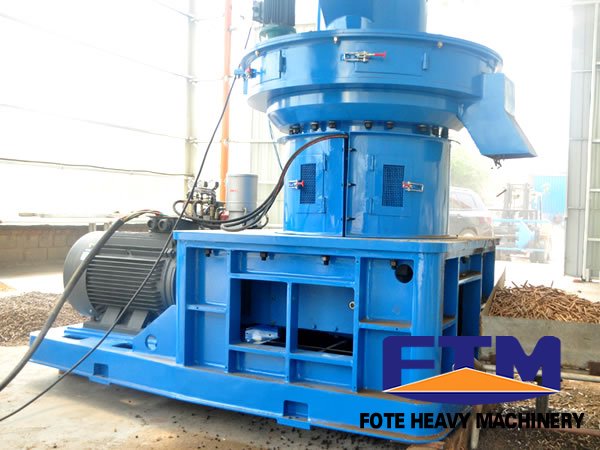 Under certain temperature and pressure, crop straws can be pelletized into biomass particles with high density and smoothly surface. The finished particle is formed rod-shaped, massive, granular. The biomass fuel can be burnt directly and the combustion performance has been greatly improved. At the same time, the biomass feed has many advantages, such as less smoke, fully combustion, free-dust and easy storage. Crop straw has been fully utilized during the cleaning process. In recent years, Fote biomass pellet machine has been well received by foreign customers.
Quenched program is an important process before the raw materials have been pelletized. Survey at home and abroad show that quenched program plays an important role in pelletizing quality. Protein in the materials will be enzymatic, and digestibility of particle feed will be increased. Biomass particles can be used to replace wood, raw coal and liquefied gas. They can be widely used in heating, hotels, restaurants, bathing and so on. If you are interested in our biomass pellet machine, please email us. We will give you an answer as soon as possible.
If you need the latest price list, please leave us a message here, thank you! We guarantee that your information will not be divulged to third parties and reply to you within 24 hours.
Tell us your needs, there will be more favorable prices!