Flat Die Pellet Mill Promotes Utilization of Biomass Energy
With the increasingly price of grain, many wasted crop straw can be utilized effectively. Flat die pellet mill can pelletize the crop straw into livestock fodder. The finished particles produced by Fote pellet mill can be sent to power plant to replace coal. The production cost has been reduced, and Fote flat die pellet mill has been approved by more and more customers.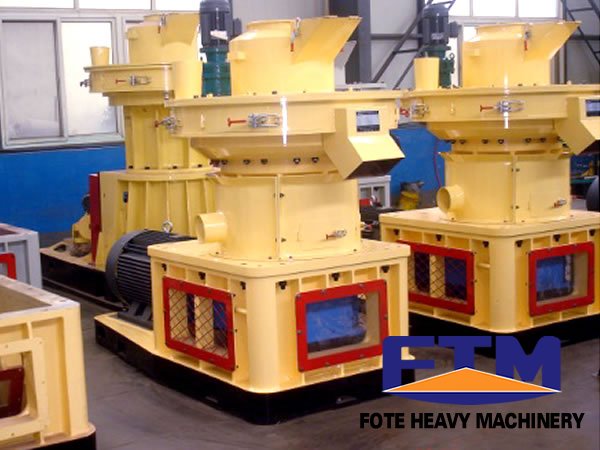 Petroleum, natural gas and coal have been the most important energy in our daily production. According to experts predict, the three kinds of energy resource will be used up in the world in 200 years. Development and utilization of new energy have been an urgent task of human development. Petroleum crisis has appeared in 70's, and development of renewable energy has received widely attention from world. Biomass energy is an important renewable resource in energy consumption. Biomass energy is less than 14% of the total energy consumption. Biomass energy has been the forth after petroleum, natural gas and coal.
Fote flat die pellet mill can be used to pelletize solid wastes: corn stalks, wheat straw, rice straw, peanut shells, corn cob, cotton stalks, soybean pole, chaff, weeds, twigs, leaves, sawdust, bark and so on. After crushing, pressing, densification and molding, crop straws can be pelletized into biomass particles. Particle fuel can be produced under normal temperature conditions. The density of raw materials is 110-130kg/m3, and the density of finished articles is more than 1100kg/m3. Moreover, its combustion performance will be improved greatly. As a kind of biomass energy, finished particles can replace wood, raw coal, petroleum and natural gas. If you are interested in our flat die pellet mill, please email us. We are looking forward to your visiting.
If you need the latest price list, please leave us a message here, thank you! We guarantee that your information will not be divulged to third parties and reply to you within 24 hours.
Tell us your needs, there will be more favorable prices!