Wood Pellet Press Wins National Patents
Fote wood pellet press absorbs advanced technology, and heart part adopts "floor mold". Our rollers are made of high-alloy wear-resistant materials. The wood pellet press features unique design, reliable structure, high efficiency and long lifespan. As patented product in machinery industry, the machinery can fill the blank of ring die pellet machine.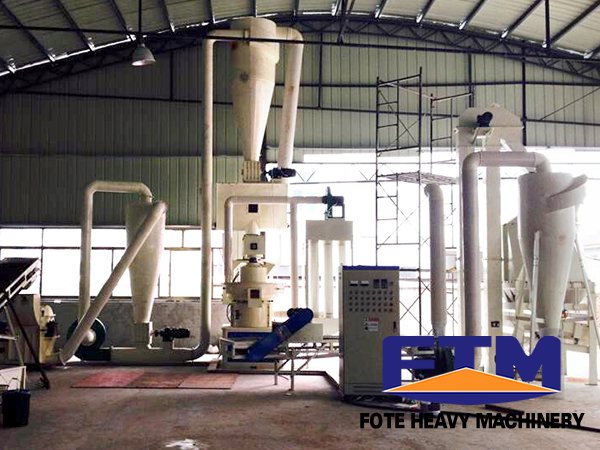 The biomass pellet machine is suited to difficulty bonding and hard forming materials, such as fruits shell: rice husk, sunflower shells, peanut rubber; wood scraps: branches, tree trunk, bark; chemical materials: rubber, cement, ash. Te finished particles have been used in feed mills, wood processing plants, fuel plants, fertilizer plants, chemical plants and so on. With small investment, fast profit and free-risk, Fote wood pellet press has been the most ideal equipment,
Under temperature conditions, we adopt pressure roller and ring mold to extrude sawdust and crop straws into particles. Density of the raw materials is about 110-130kg/m3, and the density of finished particles is 1100kg/m3. At the same time, it is very convenient to transport and store the finished particles.
Production process of the finished particles is collecting, crushing, drying, pelletizing and packing. In accordance with different harvest period, you should restore a large amount of raw materials. The finished particles should be cold for more than 40 minutes. With the comprehensive management of energy resource and environmental protection, biomass boiler has been installed in luxury villas or houses. In recent future, the convenient, green energy resource will be super star in the supermarket and multiple shops. Fote wood pellet press can play important role in our daily life. If you have any questions about our wood pellet press, please contact us. We will give you an answer as soon as possible.
If you need the latest price list, please leave us a message here, thank you! We guarantee that your information will not be divulged to third parties and reply to you within 24 hours.
Tell us your needs, there will be more favorable prices!