Wood Pellet Mill Gets a Good Response
The new wood pellet mill can pelletize all kinds of biomass particles, such as sawdust, straw, rice husk. The new wood pellet mill features high output, low consumption, few failures, highly fatigue resistance, continuously production and economy. The machine adopts cold molding and extrusion molding and so on. Integer grease polishing process can realize beautiful appearance and compact structure.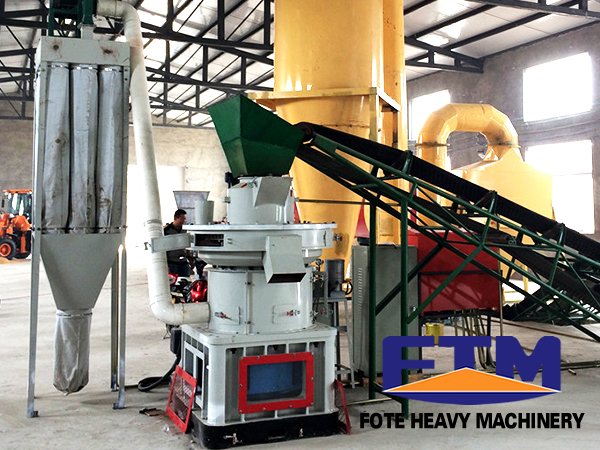 The whole machine adopts special high-quality materials and advanced gear coupling. Moreover, core equipment is made of high quality alloy steel and wear-resistant materials. Wood pellet mill uses German vacuum furnace, whose lifespan is 5-7 times of traditional pellet mill. Under certain temperature and pressure, solid fuel technology of wood pellet mill can realize biomass particle forming of the scattered crop straws. After drying and crushing, the biomass particle features high density and compact structure. As the new technology, pelletizing has been a popular technology in our industry.
The finished particle is featured with rod, massive and granular. Quality of the finished particles is equivalent to intermediate bituminous. Particles can be burnt directly, and its combustion characteristic has been improved greatly. At the same time, the biomass particles have many advantages, such as smoke-free, no ash, green environmental protection and dischargeless. As an effective method of comprehensive utilization, wood pellet mill has received widely application at home and abroad.
Solid forming technology of wood pellet mill can avoid material rebounding. The finished particles contain moderate moisture or adhesives. For the constituent part of crop straws, it includes cellulose, hemicellulose, lignin and resins, waxes. If you have some special requirements, we can provide you a personalized design in accordance with your requirement. If you have any questions, please email us. We will give you an answer as soon as possible.
If you need the latest price list, please leave us a message here, thank you! We guarantee that your information will not be divulged to third parties and reply to you within 24 hours.
Tell us your needs, there will be more favorable prices!