Application Scope of Fote Ring Die Pellet Mill
Fote ring die pellet mill can be used in many industries. There are many wasted sawdust and blocks in the production of furniture factory. We often abandon the sawdust and blocks before, which results great waste in the production process. So, energy saving has been a significant condition. Fote ring die pellet mill can pelletize the wasted sawdust and chips.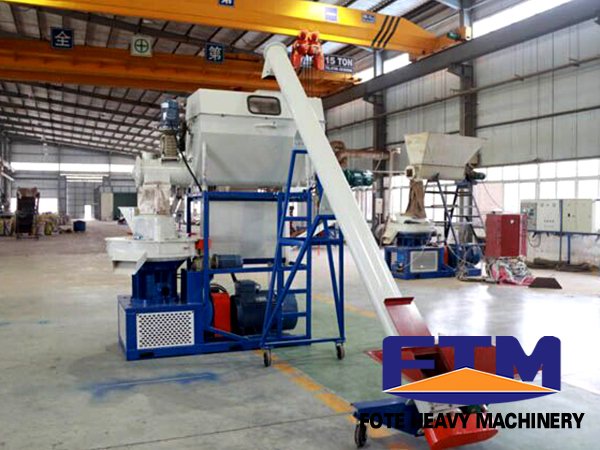 After crushing and drying, the powder can be pelletized into particles, which can replace a part of the coal. With the pellet mill, you can save national energy and reduce environmental pollution. That is why so many countries want to promote the ring die pellet machine. The ring die pellet mill can be used to pelletize all kinds of materials, such as corn stalks, wheat straw, rice straw, peanut shells, corn cobs, cotton stalks, soybean stem, chaff, weeds, twigs, leaves, sawdust, bark and so on. The forage can be pelletized into particles through crushing, pressing, densification, molding and so on.
Particle fuel can be pelletized under normal temperature, with pressure roller and ring mold. The density of raw materials is about 110-130kg/m3, and density of finished particles is 1100kg/m3. So, it is very convenient to transport and store the finished materials. Moreover, combustion performance will be greatly improved.
The ring die pellet mill is suited to different kinds of materials. During the pelletizing of sawdust and corn straws, pressure should be larger than forage. Roller part is the most important equipment in the whole machines, which is made of quality alloy steel. The ring die pellet mill is widely applied in specialized breeding households and small farms. Otherwise, the pellet machine is suited to low granulation of bio-fertilizer, organic fertilizer, fertilizer.
If you need the latest price list, please leave us a message here, thank you! We guarantee that your information will not be divulged to third parties and reply to you within 24 hours.
Tell us your needs, there will be more favorable prices!