The Most Advanced Wood Pellet Press
The new wood pellet press can process all kinds of wood sawdust, crop straws, rice husks and so on. The new wood pellet press is featured with high output, low noise, few failures, fatigue resistance and continuously production. The machine adopts cold molding and extrusion molding. The grease polishing integer technology can realize beautiful surface and compact structure. The main engine adopts special high-quality material and advanced coupling gear. Moreover, the core equipment is made of high quality alloy steel, whose lifespan is 5-7 times of traditional pellet machine.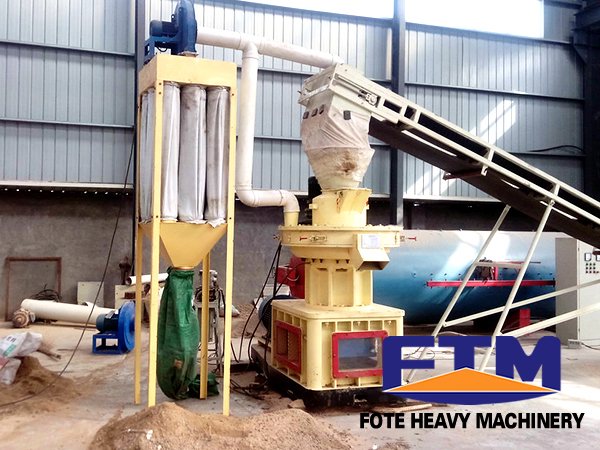 Fote wood pellet press can be used to pelletize straw, peanut shells, sawdust, twigs, bark and so on. Due to the poor working conditions, you should pay attention to the optimization and strengthen of constituent bodies and inner structure. At the same time, you should have a good knowledge of operation and maintenance of wood pellet machine to improve the production efficiency steady.
In the general process, many sets of machine works at the same time, so the conveyor can realize feeding and discharging. You can reduce the working strength to keep stable production of every machine. In daily operation, you shouldn't pursue the maximum yield, neglecting overlod operation of the machine. Fote Heavy Machinery, based on technology innovation, keeps honesty and warm-hearted service. We sincerely look forward to your cooperation.
Fote wood pellet press features easy operation and convenient maintenance. You can realize smoothly operation without special technology, so the pellet machine has been used in many boiler enterprises and home heating. If you have any questions about the pellet machine, please contact us. We will give you an answer as soon as possible. Moreover, we can design the personalized equipment in accordance with your requirements.
If you need the latest price list, please leave us a message here, thank you! We guarantee that your information will not be divulged to third parties and reply to you within 24 hours.
Tell us your needs, there will be more favorable prices!