Biomass Pellet Mill and Sawdust Pellet Machine
Biomass pellet mill features simple structure, widely application, small space and low noise. There are many kinds of pellet mills in the market. Many customers may suffer operation and technical problems, so their production process is not very smoothly. Now, I will introduce you some differences between biomass pellet machine and sawdust pellet machine. Compared to the sawdust pellet machine, biomass pellet machine is featured with simple structure (simple stamping and wheel-pressure granulation).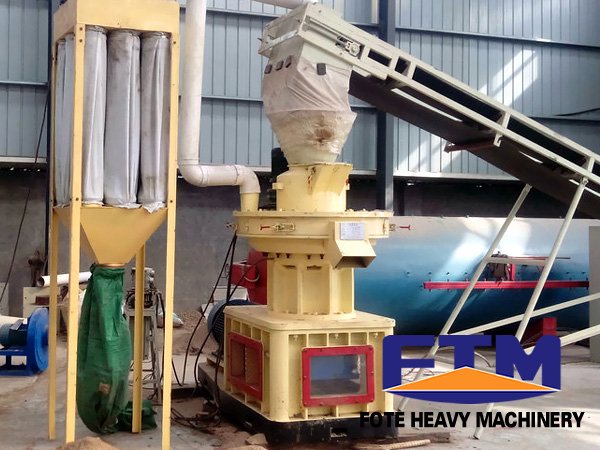 Biomass pellet machine is installed with a frequency reducer, which can adopt different frequency in accordance with different discharging. In the daily maintenance, a kind of lubricating oil is not suited to all kinds of pellet machines. In the designing of the pellet machine, the designer has dictated appreciate Lubricating oil. Different kinds of lubricating oil have different additives. So you have to choose suitable lubricating oil for your pellet machine.
Fote pellet machine has simple operation type, and its price is reliable. Our biomass pellet machine is about ten thousands yuan, which is very appreciate to small farmers. Moreover, Fote biomass pellet mill is featured with high output, automatically, and compact structure.
Small pellet machine has attracted many foreign customers. Due to many factors, too much dust will happen during the operation of small wood pellet machine. But, Fote biomass pellet mill has been improved and the machine features environmental protection and energy saving. Otherwise, we prolonged the lifespan of the pellet machine. As a professional pellet enterprise, we have been trusted and praised by many customers. If you are interested in our wood pellet machine, please contact us. Our technicist will give you an satisfied answer as soon as possible.
If you need the latest price list, please leave us a message here, thank you! We guarantee that your information will not be divulged to third parties and reply to you within 24 hours.
Tell us your needs, there will be more favorable prices!