Fote Coal Briquette Machine Owns Upgrading Design
Fote Heavy Machinery is a world famous briquetting machine and pellet machine manufacturer and supplier. Fote coal briquette machine with the special design of structure and components can bear excess service load without being damaged, which has been proved during users' practice.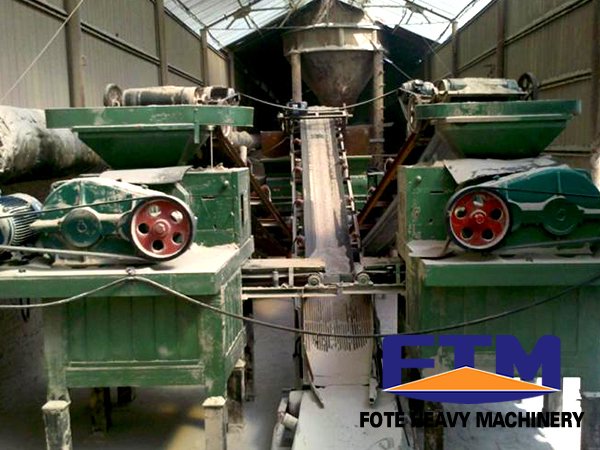 Here Fote professionals will introduce the technological process details of the coal briquette production line:
1.Feeder: it controls the total quantity of the production line and guarantees the uniformity of the feeding materials of the briquette machine.
2.Liquid mixing tank: it is used to mix the raw materials and its appearance can be designed according to customers' requirement.
3.Double shaft mixer: it can mix raw materials with the binder completely and uniformly, control the total productivity of the entire production line and guarantee the feeding uniformity of the forming machine.
4.Coal briquette machine: it will compress the dense raw materials into finished products with the proper strength and density of the coal powder.
5.Vertical dryer: considering the property and gravity of the coal powder, the dryer can dry the coal balls through the low temperature and high air volume method to meet the requirement of the furnace smelting.
Fote coal briquette machine possesses 11 national authorized patents. Some patents are made to enhance the density and pressure, some can strengthen the steel rigidity and some will improve the working stability and shock resistance.
Fote has faith in providing customers with excellent coal briquette machines and service. Please leave us a message on our website, if you are interested.
If you need the latest price list, please leave us a message here, thank you! We guarantee that your information will not be divulged to third parties and reply to you within 24 hours.
Tell us your needs, there will be more favorable prices!