Potential Market of the Coal Briquetting Plant
The potential purchasers of the coal briquetting plant are fertilizer plants, clean coal distribution companies and chemical plants. All of the enterprises consume large amounts of coal briquettes, which feature low pollution, simple process and low sulfur. By this way, you can save a lot of money and time.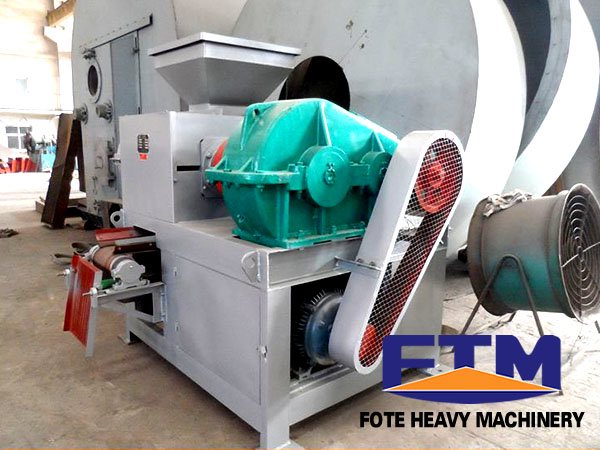 In addition to the coal briquetting plant, you also should pay attention to the price of adhesives and cinder. Moreover, material characteristics, coal briquettes cost and power consumption are also be considered before you decide to purchase the coal briquetting plants. Fote coal briquetting plant is installed with an electronic batching machine, which is featured with reliable position, compact structure, easy operation and precise formula. We have produced electronic batching machine and matched coal briquetting plant. You can realize feeding, crushing, mixing, balling, drying and storage during the briquetting plant. In the real production, you can choose right equipments in accordance with your actual needs. Moreover, we can design personalized machine according to your requirements.
Coal briquetting plant can be used to briquet all kinds of materials: lime powder, cryolite, aluminum, fertilizers, metals magnesium, bauxite, aluminum gray and so on. Powder and accessories in non-ferrous metal industry, can also be processed by the briquetting plant. The main purposes of the coal briquetting plant are reducing dust pollution, controlling capacity, and resources recycling. It is widely used in steel, lime plant and metallurgy.
Feeding plays an important role in the production process, but artificial feeding is often affected by many factors. Uneven feeding and materials blocking may exist during the production process. So we install an electronic batching machine on the briquetting plant to guarantee the working efficiency and balling rate.
If you need the latest price list, please leave us a message here, thank you! We guarantee that your information will not be divulged to third parties and reply to you within 24 hours.
Tell us your needs, there will be more favorable prices!