Lime Briquetting Machine Requires More Attention
Because of the lacking of resources, the metallurgy industry pays more and more attention to the usage of the powder materials, so does Fote Heavy Machinery.
The excellent dry powder briquetting machine can bear high pressure and high strength work. It is mainly used to make balls and realize agglomeration from ferrous and non-ferrous metal powder. The mineral powder directly enters the smelting furnace with increasing additional value. All metallurgy wastes with auxiliary materials to smelt need this machine to process.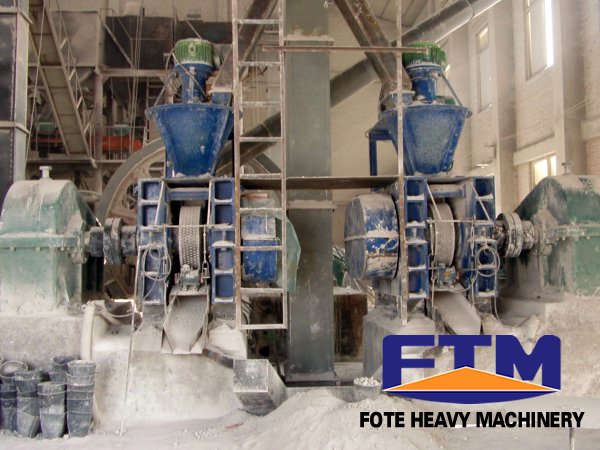 The ordinary dry powder briquetting machine has a wide range of applications in the industries of refractory matter, power plant, metallurgy, chemical engineering, energy, transportation and heat supply to press all kinds of powder, waste and waste residue such as iron powder, aluminum powder, iron oxide sheet, powdered carbon, slurry, gypsum, gangue, sludge, kaolin, active carbon and dusk coke etc.
The quick lime dry powder briquetting machine is a new device improved on other briquetting machines. Fote lime briquetting machine is made of abrasion-resisting alloy, so it has strong abrasive resistance and a long service life.
The quick lime dry powder briquetting machine greatly avoids the wasting of resources by adopting the abrasion-resistant alloy forging technology. The bearing adopts the rolling mill bearing series. The principal axis is forged by using the major diameter of 40cr steel and it can press dry quick lime powder.
The lime powder materials has caught businessmen's attention in recent years and since 2002 the metallurgy industry has done scientific research so that the quick lime dry powder briquetting machine has very wide range of application.
If you need briquetting machine, please contact us on: http://www.woodpelletmillsell.com/.
If you need the latest price list, please leave us a message here, thank you! We guarantee that your information will not be divulged to third parties and reply to you within 24 hours.
Tell us your needs, there will be more favorable prices!