Obvious Features of Strong Hydraulic Briquetting Machine
Fote strong hydraulic briquetting machine owns obvious features like high ball forming efficiency, low power consumption, compact structure and easy maintenance. It is made up of screw conveying device, electromotor, belt pulley, reducer, exposed gear, high-speed electromagnetic machine and roller.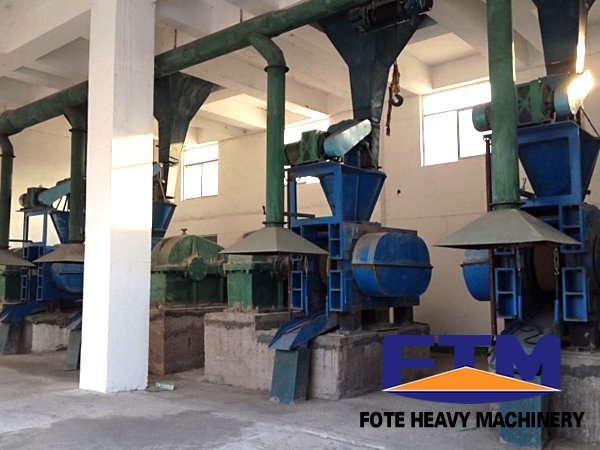 In order to form certain shapes, Fote briquette machine adopts electromagnetic speed regulating motor with manual control mode. According to different ball forming conditions, users can change its rotating speed to realize best ball forming rate and highest production. The final pressed materials enter the separator and then materials on the screen of the separator will be pelletized and packed while those under the screen will return to the stock bin and get pressed by mixing with new materials.
Our strong hydraulic briquetting machine runs relying on the cooperation of driving and driven shaft supported by the exposed gear. Hydraulic pressure device is installed on the back of the driven shaft block. Driven by the electromagnetic speed regulating motor and after the belt wheel and worm reducer turn, the spiral feed device presses materials into the main feed port.
When the spiral feeder of the equipment has the same pressing quantity with the inventory of the main body of the press machine, the feeding pressure will stay constant thus stabilizing the balling quality. If feeding too many materials, the feeder will overload electricity; if too few materials, the feeder won't form balls. Therefore, skillful operation technique has become the key condition for ball pressing.
Fote strong hydraulic briquetting machine can process many powder materials by boosting pressure. After precise processing, materials form bigger density ball bases which are widely used in the metallurgy, chemical, coal and fireproofing materials industries. For more details, please visit: http://www.woodpelletmillsell.com/.
If you need the latest price list, please leave us a message here, thank you! We guarantee that your information will not be divulged to third parties and reply to you within 24 hours.
Tell us your needs, there will be more favorable prices!