Impressive Effect of Desulfurization Gypsum Briquette Machine
The desulfurization gypsum comes as the industrial auxiliary products from the reaction of limestone powder and sulfur dioxide. It has a large amount of moisture and is not easy to store and transport. Therefore, we usually use the desulfurization gypsum briquette machine to process the gypsum.
Fote desulfurization gypsum briquette machine is made up of two parts: the feeding part and driving part. The feeding part mainly guarantees the materials to enter the twin rollers evenly through quantitative feeding, while a hydraulic device is installed in the back of the driving device's bearing pedestal. The hydraulic protection device depends on the oil hydraulic pump to drive the high pressure into the hydraulic cylinder, thus making piston do axial displacement.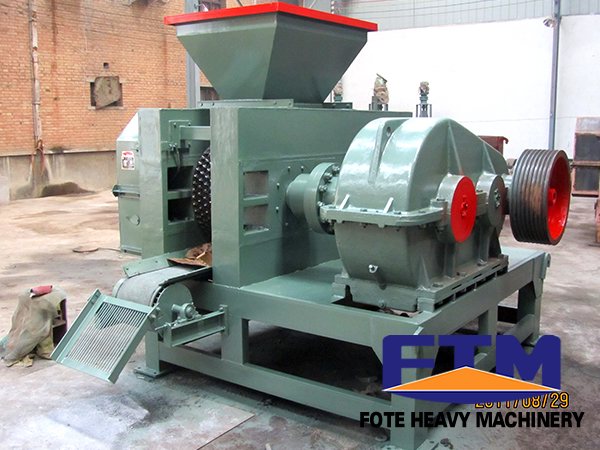 The desulfurization gypsum briquette machine gets its system power from the oil hydraulic circuit, liquid control valve and energy accumulator. Materials generally enter the hopper of the make-up machine quantitatively through the storage bin and then enter the space between the twin rollers in general after adjustment shutter of the hopper changes. Constant speed reverse running roller presses materials as the forming pressure changes from low to high and gets to the highest pressure at the connecting line of the twin rollers. When passing the line, materials are in ball separation condition with the forming pressure getting lower quickly, thus finishing the separation process.
The desulfurization gypsum briquette machine made by Fote Machinery can compress desulfurization gypsum powder into one-time ball products without any help of adhesives. It is put into production and making good effect in many power plants and cement plants all over the nation.
If you need the latest price list, please leave us a message here, thank you! We guarantee that your information will not be divulged to third parties and reply to you within 24 hours.
Tell us your needs, there will be more favorable prices!