Gypsum Briquetting Machines Have Been Widely Applied
As is known, the desulfurization gypsum is a kind of industrial by-product with stable ingredients and uniform particles used as the raw material to produce cement. Applying the desulfurization gypsum can reduce resource waste and increase the economic benefits.
Fote gypsum briquetting machines have such a wide range of application on the market because of its features of strong briquette pressure, good product shape and high yield. The gypsum briquetting machine is made up of main engine, belt conveyor, reducer, squeeze roller and electric control gear.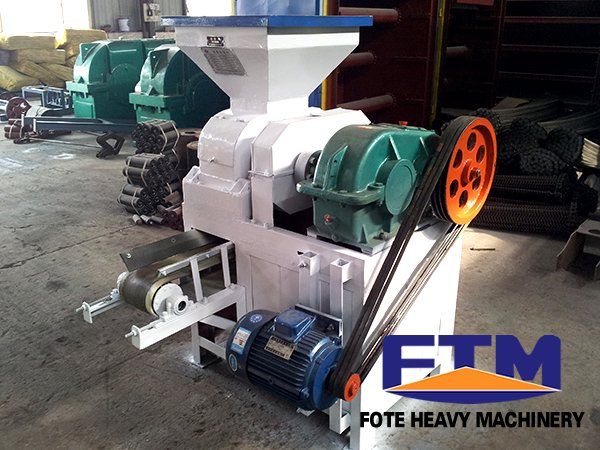 The workflow of the gypsum briquetting machine is as follows: the main engine drives the reducer via the belt conveyor to rotate with the squeeze rollers through the gears. The squeeze rollers move toward each other at the same speed. The gypsum falls from the top onto the space between the rollers. Then the squeeze rollers revolve inwards with an increasing pressure which reaches the maximum in the center of the rollers. The gypsum is compressed to be balls and are discharged from the bottom of the machine.
Fote gypsum briquetting machine has been improved since years ago, so it has higher ball making efficiency and less power consumption than other similar devices. Its compact structure makes it easy to check and make adjustment. In order to make materials shaped, the pressure screw adopts the electromagnetic adjustable-speed motor in manual mode, which helps customers change the rotate speed of the pressure screw according to different situations in order to gain the highest ball shaping efficiency and largest production.
Fote Heavy Machinery is specialized in manufacturing all kinds of briquette machines, and we welcome customers from all over the world.
If you need the latest price list, please leave us a message here, thank you! We guarantee that your information will not be divulged to third parties and reply to you within 24 hours.
Tell us your needs, there will be more favorable prices!