Rice Husk Pellet Machine in Animal Husbandry
Fote rice husk pellet machine has absorbed technology essence from home and abroad. As the new energy saving pelletizing machine, Fote rice husk pellet machine has solved high energy consumption and low output. The finished pellet feed features easy to use, safe and hygienic.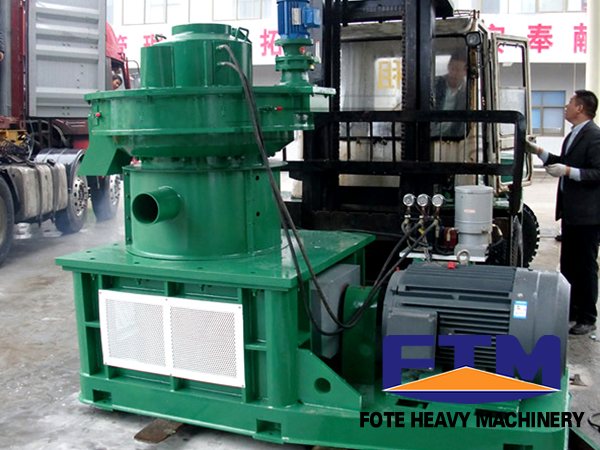 Fote rice husk pellet machine has some advantages: adopting the principle of vertical feed style; static mold, rotation roller and uniform distribution; double mould, decreasing cost; circular mould, cooling of granulating room; discharge device of independent variable frequency can guarantee the briquetting ratio.
Rice husk pellet machine is widely used in large, medium and small aquaculture, grain feed processing plant, livestock farm, poultry farms, individual farmers and feed mills. Some mainly advantages of rice husk pellet machine: simple structure, wide adaptability, small space and low noise; powder feed and toppings can be pelletized without liquid additives, and the moisture content is equivalent to dry raw materials; biomass particle feed has higher economic profit than mixed powder feed; biomass particle feed features high hardness, smooth surface and fully degree of internal maturation; pancreatic enzyme resistance factor in finished particle feed has been changed, and then parasitic ovum and pathogenic microorganisms will be wiped out.
Rice husk pellet machine can pelletize all kinds of branches and crop straw. The new type has solved traditional problems such as: difficult granulating of crude fiber and poor effect. Host drive adopts efficient belt driving. We can design qualified mould in accordance with your pellet machine to prolong the lifespan and improve quality. All of our mould adopts international advanced technology, and the quality is guaranteed. If you have any questions about the roce husk pellet machine, please contact us.
If you need the latest price list, please leave us a message here, thank you! We guarantee that your information will not be divulged to third parties and reply to you within 24 hours.
Tell us your needs, there will be more favorable prices!