Briquetting Press Machine Improves Additional Value of Lime Powder
Lime powder in metallurgy industry is mostly abandoned, which is extremely wasteful. With the increasingly tension of energy resources, utilization of lime powder in metallurgy industry has received more and more attention. Since 2002, we have invested a lot of money to research the problem, and the briquetting press machine is the best choice to briquet lime powder into coal briquette. Baosteel, Baotou Steel and Anshan have used the briquetting machine to improve resource utilization.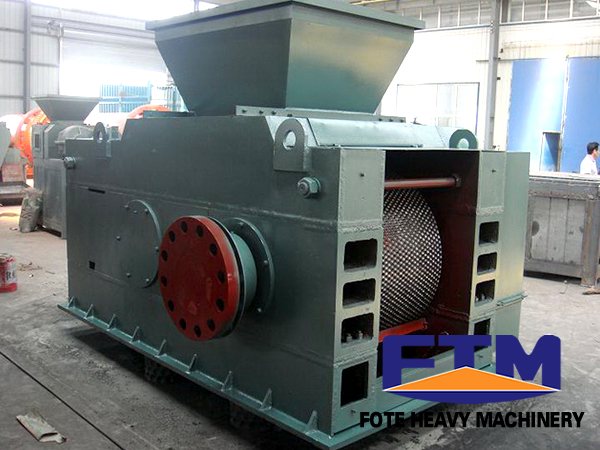 The specific processes: After screening, powder size should be less 3mm. Then, the particles will be sent into briquetting press machine, and the specification of finished products will be 35mm*25mm*15mm. We can design personalized machine in accordance with your requirements. The density of the coal briquette is1.9-2.2g/cm3, and falling intensity is equivalent to limestone lumps. Qualified balls can be used for smelting.
Application range of briquetting press machine: coal briquette production, cold-press pellets. The briquetting machine can process all kinds of powder, such as coal, coke, non-ferrous metal ore, iron oxide skin and dust, sludge, refractory and so on. Additional value of non-ferrous and ferrous metal ore will be improved. Waste materials in metallurgy industry, like dust, mud pools, scale, steel slag, iron powder, aluminum ash powder and silicon manganese powder can be briquetted by briquetting press machine.
The material is feed into the feeder forcibly. Feeding rate should be equivalent to main engine to maintain the stable quality of the finished particles. Feeding rate plays an important role in the quality of the particles. Operation skill is important condition to guarantee the ball quality. If you are interested in our briquetting press machine, please contact us, or you can leave us a message. We are looking forward to your visiting.
If you need the latest price list, please leave us a message here, thank you! We guarantee that your information will not be divulged to third parties and reply to you within 24 hours.
Tell us your needs, there will be more favorable prices!