Technological Innovation of Ring Die Wood Pellet Mill
Fote Heavy Machinery is a modern enterprise, which can design, manufacture and install the set of ring die wood pellet mill. We mainly produce three series such as several varieties like: wood pellet hammer mill, ring die wood pellet mill and small wood pellet mill.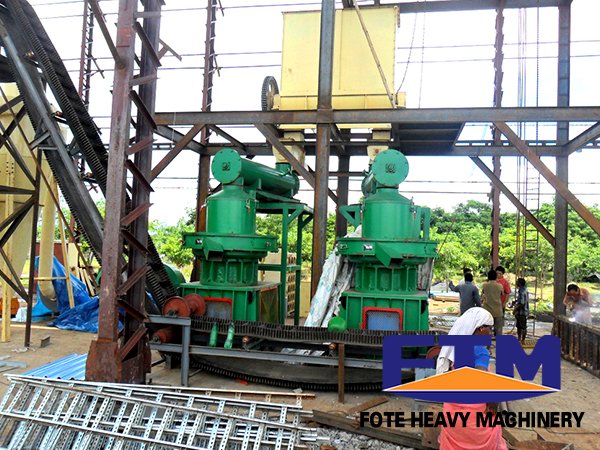 The mainly functions of ring die wood pellet mill: 1. Heating and civil life, high combustion efficiency, easily preserved safety and sanitation. 2. Biomass energy can be used as the mainly fuel in the boiler. It can replace coal, petroleum and fuel gas to solve the environmental pollution. And the biomass energy can be used for drying, and heating. 3. It can be used as fuel to generat electricity, heat value of biomass energy/ton can replace 800 tons standard coal. By this way, we can reduce 80 tons sulfur dioxide and carbon dioxide.
Products advantages: widely material sources, renewable resource; high density, easily transportation; high heat efficiency; environment-friendly products. We have strengthened labor intensity on the mainly working parts, basing on the traditional pelletizing machine to realize biomass pelletizing requirements. Fote ring die wood pellet mill has achieved great breakthrough on ring die to improve the quality and pelletizing ratio. The pellet mill features high efficiency, low consumption and stable operation.
Ring die wood pellet mill is a new pelletizing equipment for biomass energy. The booming of pellet mill has driven the fast development of economy. Fote ring die wood pellet mill adopts energy-saving device- frequency converter. Actual power is 50HZ, but 30HZ is enough in the production. Excess energy consumption will be wasted, frequency converter can transform waste energy into useful energy to realize energy saving.
If you need the latest price list, please leave us a message here, thank you! We guarantee that your information will not be divulged to third parties and reply to you within 24 hours.
Tell us your needs, there will be more favorable prices!